Hi DCENTER PROJECT LIST
(주)행림종합건축사사무소의 PROJRCT DATA CENTER 입니다.
ㅁ현상 ㅁ실시 ㅁ수의 ㅁPQ ㅁ 용도 ㅁ연도 ㅁ지역 ㅁ준공 ㅁ해외 ㅁ면적 ㅁ수상 ㅁ언론보도 ㅁ3d ㅁ스케치 ㅁ모형사진 ㅁ사례조사 ㅁPM
GovernmentCompetition Design for Seoul Jongno Police Station Design Competition (종로경찰서 계획안)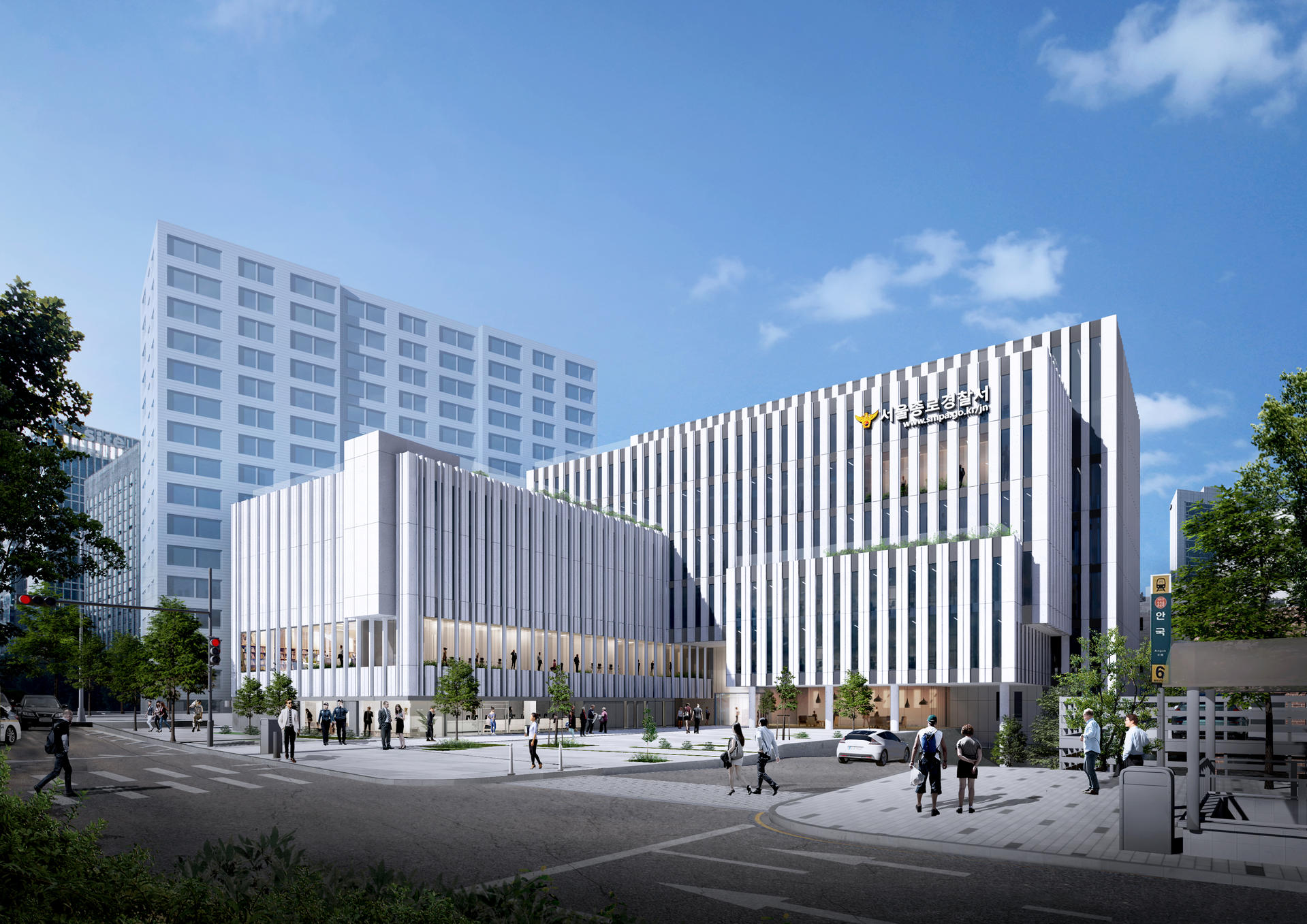 DESCRIPTION
설계의 컨셉은 역사의 층, 도시의 중첩, 자연의 켜들이 적층된 서울의 함축된 모습으로 대한민국 수도치안의 미래를 만들어가는 종로경찰서의 의의를 상징하는 '대한화첩'이다. 종로의 장소성과 수도치안 1번지의 위상을 담아, 시민과 함께하는 경찰서를 상징하였다.1. 역사도심의 보행환경과 협소한 부지여건을 고려해 주변 환경과 소통하며 시민들이 편안하게 이용할 수 있는 열린 배치계획을 수립했습니다.2. 명확한 층별조닝 및 공간구성을 바탕으로 효율적인 업무연계 및 보안성을 확보하였으며, 수사, 조사 부서를 저층부에 집중배치하여 긴급상황에 즉각적인 대응이 가능합니다.3. 시간이 겹겹이 쌓인 종로의 역사를 이어가는 적층의 형태로 새로운 미래, 공동의 가치를 만들어가는 대한민국 대표경찰서로서의 이미지를 형상화했습니다.
The design concept is 'Korea Picture'. It is an implied image of Seoul, which is overlapped image of history, city, and nature. It symbolized police station with citizen 's place with the location of Jongno and the position of No. 1 capital city.History Considering the walking environment of the city center and the narrow site conditions, we have established an open layout plan that communicates with the surrounding environment and is comfortable for citizens to use.Based on clear flooring zoning and spatial composition, we have secured efficient business connection and security. We can arrange investigations and research departments in the lower floors to respond promptly to emergencies.The image of the Republic of Korea police station, which creates a new future and a common value in the form of a lamination that keeps the history of Jongno, which has accumulated a lot of time, has been shaped.
SUMMARY
| | | |
| --- | --- | --- |
| DESIGN | | |
| LOCATION | | Seoul, Republic of Korea |
| USE | | Government |
| AREA | | 4,507.00㎡ |
| G.F.A | | |
| FLOORS | | |
| CLIENT | | Public Procurement Service |
#2019, #종로경찰서, #계획안, #종로, #Government